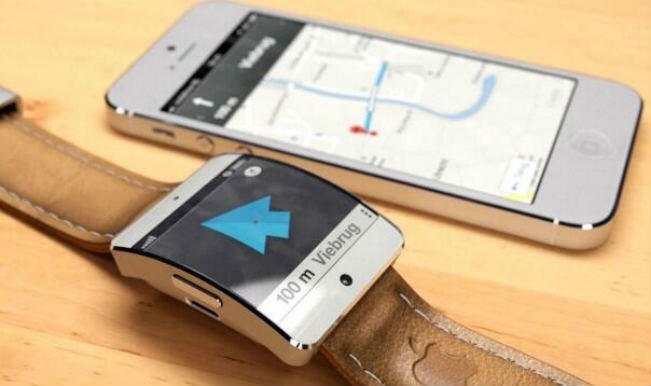 Tim Cook has released the Watch. Did you notice he didn't release the iWatch? I did, it's the first product since iMac in June of 1998 to drop the "i-" prefix, save the MacBook, Mac Pro, and mac mini. I think it's reasonable to ignore those three, because, until the Watch, the entirety of Apple's mobile segment was prefixed with "i-."

And I know why.

TL;DR. Apple didn't seize the initiative, seemingly preoccupied with incremental improvements to existing products instead of innovating into unoccupied space.

That TL;DR really sets the tone for how I view Apple's new widget. The iPod wasn't a entirely new thing – the original was, in fact, built from off-the-shelf components – but it was an entirely new conception of an existing thing, and it was totally integrated into an existing revolutionary thing: iTunes (released 8 months previously).

The original iPod also revolutionized industrial design for consumer electronics. If you're old enough to remember the black plastic boxes that were the iPod's predeccessors, looking as visually pleasing as a PT Cruiser, I am sorry.

Everything I could want to do to listen to digital music on the go was accessible in a massively intuitive, easy-to-use, and visually pleasing interface. Plus, it was so darned robust and simplified, even your Mom could be self-sufficient with her iPod. Sorry, Mom, I pledge 10 hrs free tech support. Today, the iTunes Store has been the largest music vendor since 2010 (I think it's properly a music distributor, but whatever).

The iPod and iTunes were released within 8 1/2 months of each other. If they weren't designed to be released like that and act as mutual catalysts to jointly revolutionize consumer music, you can shut up because I remember my Napster history.

Roughly 4 years after iTunes and iPod, iPhone was released. This device similarly revolutionized cellular phones, taking the Blackberry and massively improving upon it like the iPod and iTunes did for the personal CD player and Tower Records.

These four things: iTunes, iPod, iPhone, and iOS's instant usability by all comers, is how Apple came to be company which holds the record for quarterly revenues and profits: in it's most recent quarter, Apple posted revenues of $74.6bn and profits of $18bn. The previous records were set by ExxonMobile and Gazprom.

I look around the marketplace, and i see many hundred versions of smart watch, from FitBits to GPS watches to Samsung watches. All have industrial designers on staff or on retainer. All attempt to integrate their widgets with their other widgets with their revenue producing storefronts. All attempt to do the exact same thing that Apple did with iTunes, with iPod, with iPhone.

Apple is still doing the same it did. This isn't a problem, it certainly works. Are they doing it as well as they did? No. Their newest product is followership without the joie de vivre that allowed them to force out competitors of yesteryear.

Right, so let's discuss what Apple should've released. Same product, different conception and execution.

In 2009, He's Just Not That Into was released, and included the line: "I had this guy leave me a voice mail at work so I called him at home and then he e-mailed me to my Blackberry and so I texted to his cell and then he e-mailed me to my home account and the whole thing just got out of control. And I miss the days when you had one phone number and one answering machine and that one answering machine has one cassette tape and that one cassette tape either had a message from a guy or it didn't. And now you just have to go around checking all these different portals just to get rejected by seven different technologies. It's exhausting." I'll append SnapChat, What's App, Facebook Messenger, and Google Hangouts to that list of technology.

Aziz Anzari's latest standup which was just released on NetFlix, Live at Madison Square Garden, takes the basic lamentations of the above quote and expands that into an hour long special on how the supreme connectedness of contemporary life tends have a polar effect. Watch it between House of Cards episodes as a tonic to the evils of Claire's little bitch, Frank Underwood.

A well-watch TED Talk, In Praise of Slowness, further discusses this trend.

Apple should've answered that undercurrent of rejection of supreme connectedness by technology, and sold a widget which allowed them to control how people disconnect. A watch that can do: phone calls, SMS/MMS/email, and calendar, and nothing else. I personally know a few dozen people who've traded in for "dumb phones." I would consider trading my Nexus 5 for a Apple Watch like I described. Given those requirements, the battery on it would be prodigious, and materials engineering should be able to recreate the indestructible Nokia brick's durability.

Because, as far as I can tell, the crApple Watch is simply an iPhone with a smaller face. A miniaturized iPad, which was an inflated iPhone. Now, don't get me wrong. This Watch will probably sell well, but it will not have the same effect as Apple's previous mobile triumphs. Pity.
Apple, if you read this, I very interested into discussing your company's future.
Comments
comments